HANDS AND HEARTS HELPING OUR COMMUNITY
"We search for charity within ourselves, and strive for the grace to share it with others."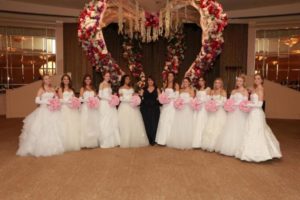 National Charity League was founded in 1925 by Mrs. Paul William Lawrence, reactivated in 1946 by Mrs. Marcus Arthur McClure, and incorporated as a not-for-profit in 1947. National Charity League, Los Angeles Founder Chapter is distinct from, but warmly in alliance in goals and practices with, National Charity League Patroness mothers and Ticktocker daughters grades 7-12 work together in their grade level grouping, in the community, and in our Timeless Treasures Ticktocker Thrift Shop. Positions have been carefully planned to help our organization do its work, as well as to help every participant feel like a valued member of the group.
Once a Ticktocker in her final year has fulfilled her obligations, she may wish to culminate the NCL experience by participating in the Coronet Debutante Ball, a breathtaking evening of tradition and family ceremony.  Afterward  her mother may continue to be an active member as a Patroness at Large, and is encouraged to participate in adult groups, attend general functions, and take on a leadership role in the organization.
Philanthropy is at the very core of National Charity League, and our purpose is to provide opportunities for mothers and daughters to enjoy their special relationship in social, cultural and philanthropic environments. Some philanthropies we work closely with are Para Los Ninos, Upward Bound House, Maryvale, Westside Children's Center, St. Joseph's Center, St. Anne's Home, and Ocean Park Community Center. Our property at 5000 Hollywood Boulevard in Los Angeles has long provided space for government-assisted preschool programs and other charitable organizations in addition to our own headquarters, and we operate Timeless Treasures Ticktocker Thrift Shop at our 9441 Culver Boulevard property in Culver City, the proceeds of which go to support our charitable endeavors.
As a women's organization we expect our mothers to mentor our daughters to be good volunteers and effective philanthropists, and we expect our daughters to keep us relevant. The Ticktocker experience provides opportunities for each girl to know the joy of helping others, to learn tolerance and kindness, and to make friends while sharing and participating in these activities. Historically, the grade groups that offer meaningful hands-on philanthropic opportunities for the girls tend to be the groups that bond closely and get the most out of the National Charity League experience.